Quick Info:
Title: Deadman Wonderland (
デッドマンワンダーランド
D
eddoman Wandārando)
Written by: Jinsei Kataoka
Illustrations: Kazuma Kondou
Published by: Shõnen Ace
Anime adaptation: Manglobe
Reviewed: Anime version
Liscensing rights: Tokyopop/Funimation
Aired on: Crunchyroll.com
So let's talk Anime, shall we? Deadman Wonderland is one of those ultra-violent, ultra-dark series that comes along once in a while. It starts off with a very bleak tone, and while it may delve into typical Shõnen territory then and again, it manages to keep somewhat fresh. It's based on a actual dead-wood manga, but I've only had the anime available to me (No actual effort was put into tracking down the manga though, the anime version is legally free on
Crunchyroll
.)
INTRO:
So I sit down in front of my computer, ready to have the usual J-pop insanity thrown at me,
or at the very least some sort of death metal nightmare. Instead I'm treated to a pretty descent little New Metal song, In English no less. The song is best described as akin to Pre-Reanimation Linkin Park, though it lacks rap it's very similar to their normal metal. Listening to it, I can't help but think of songs like Runaway or Papercut. The actual intro video, while very bloody and dark isn't all that visually interesting to look at. It features the most important characters in different kinds of poses, obscured by darkness and bloodsplatter.
PREMISE:
While it may be decently cool, The premise seems mostly like something an angsty teenager would come up with. A high school kid named Ganta Igarashi is somehow spared when all of his classmates are murdered brutally by an entity known as The Red Man. He is blamed for it however, and quickly sentenced to death. He's sent to the privately owned prison/fun fair called Deadman Wonderland. Built in the crater that once was Tokyo, Deadman wonderland is known for putting their inmates out in display as entertainment in a giant theme-park. Ganta quickly gains two friends, a secretive thief named Yõ Takami, and a albino fanservi-I mean happy girl named Shiro. It's also pretty fast established that Ganta has been given a special power to shoot bullets out of his palm. How it works, and why he has it it's too much of a spoiler to reveal here. The characters are cool enough, but the author seems to forget the story is supposed to take place in a high security prison and not a High School sometimes. Because of this, I sometimes feel there's a blur between this and any other High School battle shõnen available.
MAIN CHARACTER: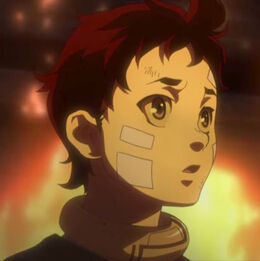 Ganta Igarashi suffers from the I'm-So-Weak-Phenonemon that's become very popular among authors these days. His personality and even given voice is very similar to Tsuna from
Katekyo Hitman Reborn
or Sena from
Eyeshield 21
. Both decent anime in their own right. The voice actress
Romi Park
, previously the voice of such characters as Edward Elric from
Full Metal Alchemist
does a stunning job though. It does make Ganta kind of intolerable in the long run, as these kind of characters lack of confidence tends to take up most of the first couple of story-arcs. All in all a very typical Shõnen hero that struggles to find their place in the world. The other characters, though interesting in their own right, really suffers from being comparable to other manga stereotypes as well. Off the top of my head, The character Crow is similar to Roronoa Zolo from
One Piece
.
ALL IN ALL:
While nothing groundbreaking or genre-changing it's a pretty good Battle Shõnen. The action is typically epic and like with any other series in the genre it let's you root for the characters and have your blood boil in excitement when the hero saves the day in the end. If series like One Piece (or something similarily popular) were to end tomorrow, Deadman Wonderland would probably be one of the series that the torch would be passed on to.
----------------------------------------------------------------------------------------------
If you liked this article, Please pass it on to your friends or write a comment! :)